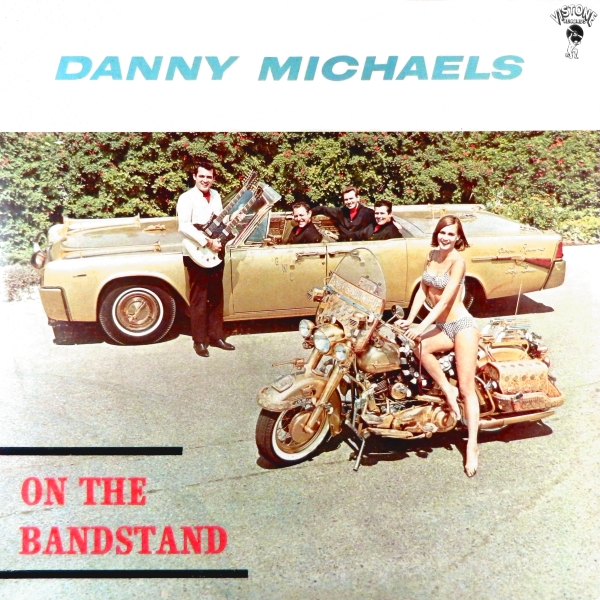 Danny Michaels and the Rebel Playboys were a Southern California country music fixture appearing regularly at George's Roundup in Long Beach throughout much of the 1960's and early 1970's. Danny Michaels, the leader, was an accomplished singer and lead guitarist who liked to play the double neck guitar. Danny Michaels was capable of playing a wide range of styles from polyrhythmic garage style solo breaks to legato pedal steel type runs. He was a very highly regarded player and made numerous appearances on Cal Worthington's Cal's Corral, a weekly three hour television show on KTLA that ran from 1959 to 1972.
"On the Bandstand", undoubtedly referring to the bandstand at "George's Roundup" in Long Beach, was the group's first album. It was originally released on Chambers Records in late 1964 or early 1965, and was updated and re-released on Vistone a few years later. George's Roundup was one of the premier venues for country music in Southern California for many years. Located at 2310 West Pacific Coast Highway in Long Beach, it catered to country music fans and sailors stationed nearby. The club featured name acts, great bands and a live feed to KFOX two nights a week. During the 1950's, the house band had been Wynn Stewart's Western Playboys. The 1960's saw Danny Michaels and the Rebel Playboys take over that spot. The club's connection to Danny Michaels is clear from the props that appear on the record cover. The Lincoln Continental and Harley Davidson 1962 Duo-Glide belonged to club owner George Underwood and were advertised as being solid gold. While that would not have been possible, they were gold plated. The car was claimed to be worth as much as one million dollars! The bike, not so much, a mere $25,000.00 in 1964.
On this album, the Rebel Playboys consist of Jerry Stevens on pedal steel guitar, Bobby Boydd on bass, Billy Jay Nixon on drums, and Jimmy Pruett on piano. The vocals are performed by Danny Michaels, Bobby Boydd and Billy Jay Nixon. Jerry Stevens, a regular member of the Rebel Playboys was an active steel guitarist in the Los Angeles area. He and Bobby Boydd shared those duties with the Rebel Playboys and both played a very similar style of pedal steel guitar. Jerry Stevens did a fair amount of studio work, and a lot of publishing demos. Bobby Boydd is a bit better known than Jerry Stevens as he toured with Hank Thompson and the Brazos Valley Boys (during the 1970's) and backed big names like Merle Haggard, Hank Williams Jr,, Mel Tillis, Little Jimmy Dickens and others. Jimmy Pruett, today, is probably the best known musician on the album. He played with Stuart Hamblen, and Jimmy Wakely, and recorded with T. Texas Tyler, Spade Cooley, Merle Travis, Hank Thompson, Joe Maphis and many others. He was blind and is known both as a guitarist and a pianist. He often appeared on Town Hall Party and on Leo Carrillo's Dude Ranch TV show in 1950. He also was credited as "Jimmy Pruett" and under that spelling recorded an album entitled "Good Time Piano" for Capitol. Billy Jay Nixon was probably best known for working with Danny Michaels. He appears on two of the three albums released during the 1960's under Danny Michaels name, and is probably a member of the large clan of Nixons affiliated with country music in Southern California.
Watch for this upcoming release on I-Tunes, Apple Music, Amazon , Spotify and other digital music services.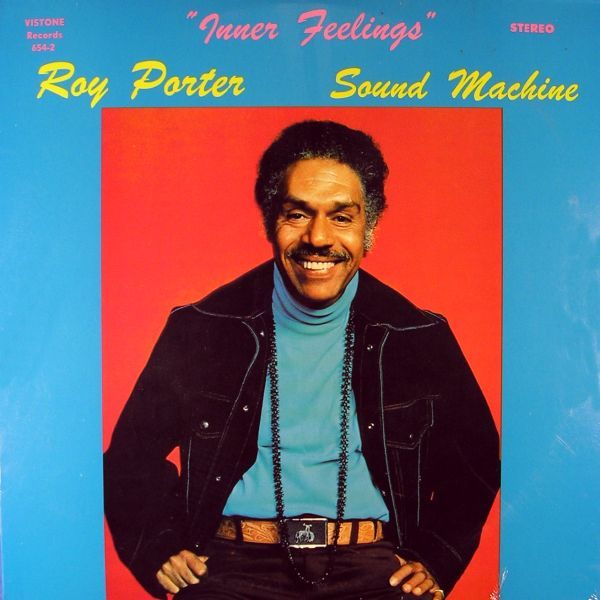 VISTONE 654 ROY PORTER SOUND MACHINE: INNER FEELINGS
Original pressing of this fine jazz-funk classic. Mint. Still in original wrap.
$49.00 plus shipping.
Contact us by e-mail to purchase.