New Releases 05182016
OUR NEWEST RELEASES
V.S.O.P. RECORDS is pleased to announce the release of V.S.O.P. #128 CD THE DOUG WEBB QUARTET: SETS THE STANDARD. This CD is a bit of a departure from the usual album that Doug Webb has recorded in the past. For this release, Doug wanted to record a set of standards, primarily ballads, so that he could exercise his improvisational abilities in a more lyrical direction. He also wanted to record on various horns from his vast collection, and take advantage of his facility with both E flat and B flat reed instruments. When Alan Broadbent was invited to perform at Ken Poston's series of concerts in May of 2014, the long awaited opportunity presented itself. Alan's wonderful talents as an arranger and composer are equaled only by his great ability as a pianist and accompanist. He was the perfect pianist to assist Doug in bringing his ideas to fruition. The location selected was Nolan Shaheed's Studio in Pasadena, with Putter Smith and Paul Kreibich invited to round out the rhythm section. Because of time constraints on Alan's stay in Los Angeles, no rehearsal time being available, it was settled that the selections to be performed and recorded would be familiar to all and no written parts would be used. This is a totally improvised set. The results are as excellent as the personnel involved.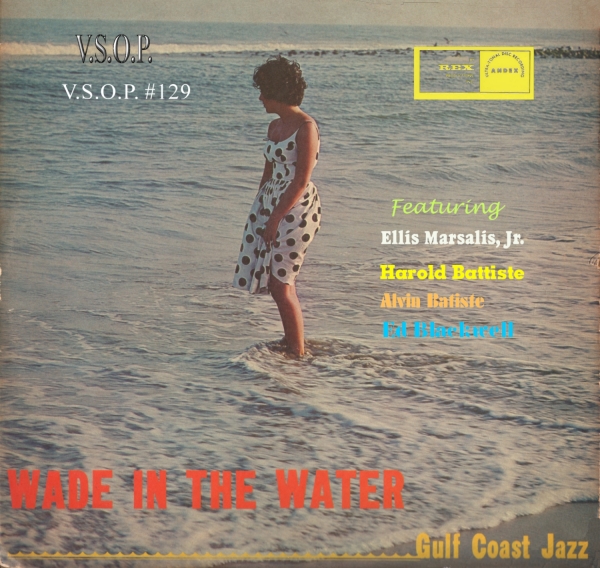 V.S.O.P. RECORDS is pleased to announce the release of V.S.O.P. #129 CD GULF COAST JAZZ: WADE IN THE WATER . The music on this CD is drawn from the second 1959 recording session of the group calling itself "The American Jazz Quintet", which featured Ellis Marsalis, Harold Battiste, Alvin Batiste, Ed Blackwell, and Richard Payne or Willam Swanson. They were one of a very few and perhaps the only modern jazz group based in New Orleans. The first session was released last year as Volume I (V.S.O.P. #125 CD). The music included on this second CD release first appeared in the 1960's on an LP produced by Bumps Blackwell for release on his Famous Records label and this CD tracks the order of that program. Unlike the selections on "Volume 1", which were largely original compositions, this program is comprised mostly of jazz arrangements of traditional gospel music and spirituals. The group's original intent in making these recordings in 1959 was to create a program that traces the related origins of New Orleans jazz and modern jazz to the early spirituals of the Southern black gospel churches. Make no mistake about it, this is not about newly arranged traditionals. This recording is very modern, in some cases almost avant-garde. Both in its playing and its writing, the American Jazz Quintet creates a unique music that is noteworthy, not only as a significant chapter in the history of jazz in New Orleans, but also as an insightful revelation of one of the more important roots of both traditional and modern jazz. The music on this CD was remastered at 96/24 from the original session tapes.

New Digital Only Releases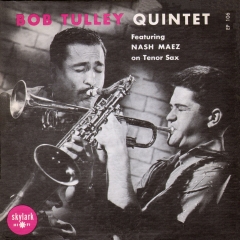 Skylark EPs: VSOP #130 THE BOB TULLEY QUINTET I -Tunes Amazon
Bob Tulley on trumpet, Nash Maez on tenor sax, Hunky Page on piano, Paul Binning on bass, and Hank Milo on drums. Arrangements, Willie Maiden. Skylark EPs 106 and 107.
We know very little about Bob Tulley, himself. He is not credited on any other recordings although the liner notes indicate that he was playing "around town" with Maynard Ferguson. Bob Scherman, in his liner notes, uses many superlatives, so he was certainly impressed. The other members of the group are a tad less obscure. Nash Maez, after Willie Maiden, the best known musician on the date, had played and recorded with Perez Prado, both before and after this date, where he most likely came to know Willie Maiden. He also played with Rene Bloch's Orchestra after this date. He went on to play with various Latin groups and was on Danny Beher's 1992 California Salsa album released on his Sea Breeze label.
Paul Binning and Hank Milo are more obscure. They both appear on an Earl Hines date for Nocturne Records from July/August, 1954 which helps date this recording since it is referred to in the liner notes. Willie Maiden was the arranger for Hines' Los Angeles recording session. Binning and Milo also accompany Earl Hines on the trio portion of the Nocturne Records session that takes place in New York on August 21, 1954. However, apart from that session or group of sessions, nothing exists other than the instant recording as evidence of their musical history.
Hunky Page is a bit more famous, though he may not have recorded even as extensively as Paul Binning and Hank Milo. Hunky Page is best known for being the house pianist at the American Hotel for over 20 years in Sag Harbor, NY, and for teaching actor Chevy Chase how to play jazz piano. He seems to have had an outstanding reputation as a jazz pianist.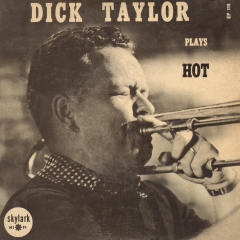 Skylark EPs: VSOP #131 Dick Taylor: DICK TAYLOR PLAYS HOT I-Tunes Amazon
EP 112 and EP 113, also released as Skylark 18 LP in October, 1954, then re-released on Tampa Records as J.D. King "Swingin' Saturday Nite Dance Party" with the addition of two tracks. Because Dick Taylor was such an important part of both Skylark Records and Tampa Records, when it began, we chose to release this material using the Dick Taylor cover and imprint.
Dick Taylor was a highly regarded trombone player who doubled on bass and whose recording career began with a Red Norvo V-Disc session in 1943. He spent most of his performing and recording career with Gene Krupa's outstanding late 1940's band which included Don Fagerquist, Red Rodney, Charlie Ventura, Teddy Napoleon, Buddy Stewart, the Triscaris, Al Porcino, etc. His playing career also included work with Louis Armstrong, Stan Kenton, Gerry Mulligan, The Lighthouse All Stars, Maxwell Davis and numerous other aggregations. He also was greatly in demand as a big band orchestrator, having arranged for Gene Krupa, Tony Pastor, Jerry Wald, Ray Noble and many others. As a trombone player, he was especially known for his tone, favorably compared to Jack Jenny's. He spent much of the early 1950's working with Robert Scherman, mainly as a contractor, but also as a recording artist. Dick Taylor and Bob Scherman operated a demo recording business together called Webster Music, during parts of 1949 and 1950. They continued working together until 1956 or 1957. Many R&B and pop sessions for Tampa and Skylark were contracted and produced under Dick Taylor's name. He also was married to Vivien Garry for a short period of time and performed on her recordings for Skylark, after their breakup (at the time of her recordings for Skylark in March of 1952, she was married to Jimmy Giuffre, also on the date. Shelly Manne, who also was on this session, referred to it as "the recording date of Vivien Garry and her many husbands".).
J. D. King, under whose name this material was re-released on Tampa Records, was a big toned tenor man originally from Milwaukee, WI. He had joined the Andy Kirk band by 1943, and came out to Los Angeles at that time, and stayed. He appears with Andy Kirk (when Fats Navarro was with the band) on various dates as "J. D. King", as well as "James King". Later, he joined Teddy Edwards in Howard McGhee's group. He was featured on various recordings, including a 1947 session under Vic Dickenson's name, a couple of sessions for Capitol featuring Alton Redd on vocals; and a Bumps Blackwell produced Sonny Knight session for Aladdin in 1953. He also appears on various Tampa vocal group recordings.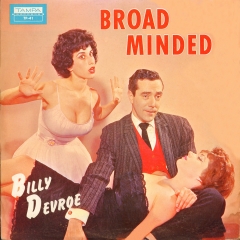 Five Star 1005 Billy Devroe and The Devilaires: BROAD MINDED I-Tunes Amazon
Billy Devroe comedy recording with great cover, followed by the non-comedy singles he recorded for Tampa. Not Jazz. Warning: explicit/politically incorrect. Billy Devroe is probably best known today for the X rated party records that were released on LAFF Records during the 1970's and 1980's. Laff Records was the label that featured such artists as Redd Foxx, Richard Pryor, LaWanda Page, Skillet and Leroy, Rudy Ray Moore and even George Carlin. Laff Records and it's sister label Archives of Jazz, licensed some material from Tampa Records, including the "party records" made for Tampa Records by Billy Devroe and the Devilaires. "Broad Minded", the party album featured here, was Billy Devroe's third and last album made for Tampa Records and was reissued as "Trip Around The World" on Laff Records.
Today, listening to these so called "X" rated recordings, what is most amusing about them is what they reveal about those that made them and their sense of humor. They are politically incorrect, but not really that risque. In fact that is the funniest thing about them. Most of the jokes are more fitting for an elementary or middle school playground than for a nightclub. Many songs follow the Fluffy Hunter "Walk Right In Walk Right Out" ("The Walking Blues") model. There is plenty of homophobia, which would be expected in the era of Whisper and Confidential Magazine. Nevertheless, Billy Devroe and the Devilaires do present and perform the songs well, and they can be quite funny.
In addition, this program includes the 8 sides Billy Devroe and the Devilaires recorded for Tampa that do not appear on any of the Tampa party records. Billy Devroe's musical style on the non-comedy material is either rockabilly or pop. He performs both. Some of these tracks have very nice guitar breaks. Others offer a bit of novelty appeal. None charted, although most were reviewed in Billboard.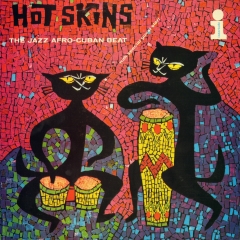 VSOP #29 Shelly Manne: HOT SKINS I-Tunes Amazon
Comprised of two LPs recorded for Tampa featuring latin percussion, re-released as "Hot Skins" on Interlude under Shelly Manne's name. The two Tampa albums that make up this release are Tampa 21 Bongo Session which was released under Mike Pacheco's leadership in 1955, and Tampa 32 Congo Drums released under Carlos Vidal's leadership in 1956. The primary difference between the two albums is that the bassist on Tampa 21 is Tony Reyes, while the bassist on Tampa 32 is Julio Ayala. Material from both albums was included on Interlude 513 Hot Skins, although not all of the selections from either release. While the Interlude release is under Shelly Manne's name, it is really a latin percussion album which showcases bongos and congas. Shelly Manne, Mike Pacheco, Carlos Vidal and Frank Guerrero, each of whom is noteworthy in his own right, could have each been cast as leader. The albums could also have been credited to Roberto Gil who composed and arranged the selections and performs on piano, if he enjoyed the reputation that his abilities deserved. Tony Rizzi performs on guitar, and his role is no less significant than any of the others. All tracks from both albums are included, and all extant alternate takes, as well.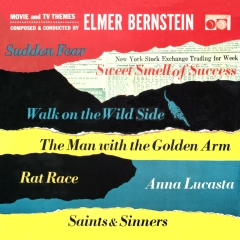 VSOP #53 Elmer Bernstein: MOVIE AND TV THEMES I-Tunes Amazon
All Star recording of famous and less famous themes by Elmer Bernstein. This is also available on LP and CD. CD and downloads are digitally remastered. By 1962, Elmer Bernstein was fast becoming the Constantin Bakaleinikoff of his day. His talents were often applied to hard hitting drama and film noir genres, though he had worked on many types of films and TV shows. This particular recording accents the dramatic and stark side of his sound track work more than any other style. Elmer Bernstein would become the most important artist/composer for Fred Astaire's Ava (Choreo) record label, which released quite a number of composer and arranger themed albums. The orchestra performing on this album consists of Hollywood's finest jazz oriented players, to a man, first call on their instruments. The solos are sparse, and the arrangements are nearly identical to the versions performed on the soundtracks, which is to be expected since they appear to be the work of the original arrangers.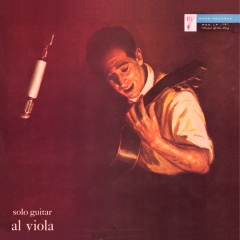 VSOP #70 Al Viola: SOLO GUITAR I-Tunes Amazon
Recorded in September, 1957, Al Viola's first recording as leader was made at Radio Recorder's for Mode producer Red Clyde. He had started his remarkable recording career with Page Cavanaugh's date for Encore Records in 1946, and went on to an incredibly productive lifetime of work that is almost unrivaled for the number of recordings on which he appears. There is probably not a single Frank Sinatra recording on Reprise Records that does not include Al Viola's playing. He is on most of the classic dates recorded by Julie London and June Christy. He is also on many Buddy Collette dates. These alone would be a significant accomplishment for any jazz musician. However, in Al Viola's case, they barely scratch the surface of his work with sound recordings. His soundtrack career is equally prolific. His mandolin playing on the "Godfather" theme is universally known.
This album is a bit different from the work Al Viola had been previously best known for. It features his playing an acoustic guitar without accompaniment employing primarily classical guitar techniques in the context of a jazz recording. This was something that Al Viola wanted very much to do and to this end had been attending the California Academy of Music studying classical guitar, harmony and theory. The album features eleven standards and a Bobby Troup original entitled "Nocturne". The method employed is difficult. In fact, each selection is arranged just as if it were performed by a group. To fully appreciate what is going on requires careful listening. Fortunately, this was a well recorded effort where every brush of the fingers on the strings and sound box are audible. Were it performed by anyone else, it may have turned to chaos. However, as Al does it, it proves to be not only an extremely enjoyable program but also a wonderful application of acoustic guitar technique and concepts to the modern jazz repertoire.